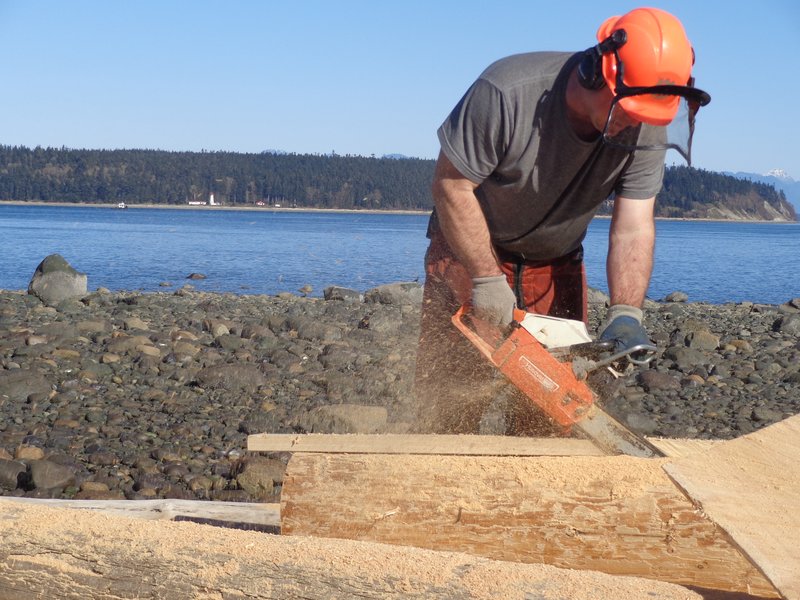 Working with reclaimed and salvaged wood is something I have been passionate about most of my adult life, I always liked liked re purposing old boards and beams that I found and then incorporating them into functional pieces around our home.
After many years of walking our dog on the beaches of Discovery Passage near our home in Campbell River, in 2010 I finally decided that I should  start working with some of the drift wood we were walking past each day. So my first alder serving tray was soon made and then cutting boards, bowls and furniture were soon to follow.
I get the inspiration for my work from the natural beauty of where we live, I love to reclaim and salvage the wood and then bring out the natural beauty of the wood, I like to keep it natural and simple letting the wood speak for itself.  To me each piece represents where it came from the West Coast.
Each piece of wood I work with that I find washed up on the beaches of Discovery Passage has been on an incredible journey from its origins which may be from far up a mainland river or a distant shoreline to end up at it final resting place on the beaches of Discovery Passage. The specie's of wood I work with are Alder, Arbutus, Maple, Pacific Yew, Douglas Fir , red and Yellow Cedar and western Hemlock and are all indigenous to British Columbia. 
All of the bowls, serving trays,  serving and cutting boards I make are food safe and have been treated with a food safe mineral oil which is available at all drugstores.